Buckwheat Pancakes: Vegan and Gluten Free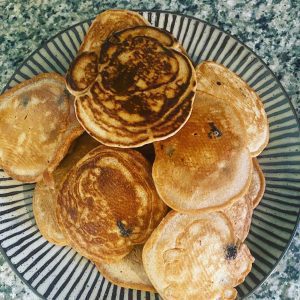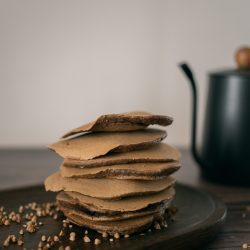 Buckwheat Pancakes: Vegan and Gluten Free
These vegan, gluten free pancakes are easy and delicious! Buckwheat is a complete protein, so they're delicious and nutritious.
Ingredients
Wet
1/4

cup

unsweetened applesauce

1 3/4

cup

water or plant milk of choice

unsweetened vanilla hemp milk is recommended

2

tsp

vanilla

1

tbs

apple cider vinegar or lemon juice

do not pre-mix this into your wet ingredients (if you are using a plant milk the milk will curdle)
Dry
1 1/2

tsp

baking powder

1/2

tsp

salt

1 1/2

cups

buckwheat flour

Anthony's brand recommended; you can use dark or light buckwheat for this recipe

Coconut oil or other cooking for the pan or griddle you are using
Instructions
Mix the applesauce and vanilla together (it iseasy to use a 2 glass measuring cup, measure out ¼ cup of applesauce and put inthe bottom of the glass and then fill the rest of the cup with milk) and thentop off with vanilla. In a separate bowl, sift together the baking powder,salt, and buckwheat flour.

Mix the wet ingredients into the dryingredients, topping off with the apple cider vinegar or lemon juice and you'reready to go!

Turn on your pan or griddle to medium/highheat depending on your stove. Once it heats up, put a small amount of coconutoil in the pan and spoon ¼ cup of the batter onto the pan. You can cook 2-3pancakes at a time. You will know the pancake is ready to flip when the bubblesthat form in the cooking batter pop and do not fill back in again. Once youflip your pancake, cook it until the second side is browned and the pancake isfirm, but still fluffy to the touch.

Top your pancakes with butter, fresh fruit,cinnamon, or sunbutter. Enjoy!