Butternut Squash Soup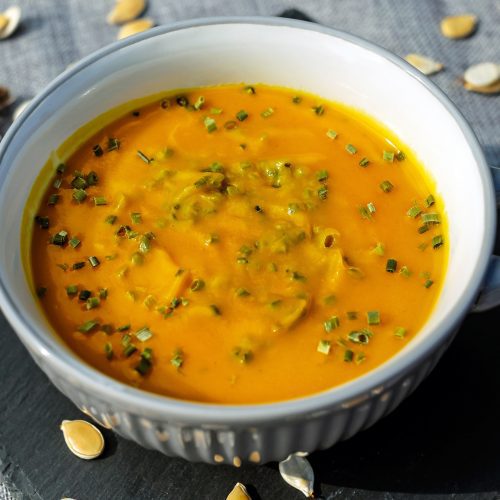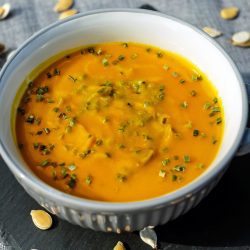 Butternut Squash Soup
This soup is perfect for fall weather or rainy days. Enjoy as a side dish or add meat to make it a full meal.
Ingredients
3

tbsp

butter or ghee

1/2

cup

diced onion

3

cups

peeled butternut squash*

2

cloves

garlic

minced

1/2

tsp

ground ginger

4

cups

organic chicken or bone broth

1

tsp

salt

1/2

tsp

black pepper
Instructions
In a large pot, melt the cooking fat over medium heat. When the fat is hot, add the onion and cook, stirring, until translucent, 2 to 3 minutes. Add the squash, garlic, and ginger and stir until the garlic becomes aromatic, about 1 minute.

Add the chicken broth and bring to a boil over high heat. Boil until the butternut squash is soft, about 10 minutes. Remove the pot from the heat.

In one or two batches, transfer the soup to a food processor or blender and blend on high speed until smooth in texture. Return the pureed soup to the pot.

Heat the soup over medium-high heat until it thickens enough to coat the back of a wooden spoon, 7 to 10 minutes. Season with salt and pepper.

MAKE IT A MEAL: To make this a complete meal, add cooked chicken, or ground turkey or bison when returning the soup to the pot for the last 7 to 10 minutes of cooking. For extra greens, add two generous handfuls of spinach or kale in the last 3 minutes of cooking.
Notes
*Cut a small amount from the bottom and top of the squash. Set on a level surface. Peel the squash from top to bottom with a vegetable peeler. After that, place the squash on a flat surface and cut it in half from top to bottom, resulting in two long halves. Using a large spoon, scrape the seeds from the squash's center. Finally, put the two halves flat on the cutting surface and cut strips lengthwise, then across. If some sections are substantially thicker than others, cut them in half again to make your cubes a more uniform size.
*You can also buy preprepped squash (recommeded to save time!) from Costco, Whole Foods, Harris Teeter or other grocers. Fresh squash should be used over frozen as the flavor is not as potent with frozen squash.