Paleo Beef with Broccoli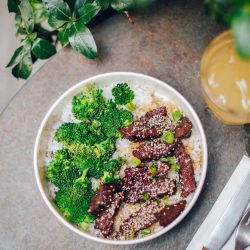 Paleo Beef with Broccoli
This recipe is a great healthy alternative to Asian style takeout! Paleo and Whole 30 approved.
Ingredients
1

pound

beef

(sirloin, skirt, boneless short ribs, ground)

1-2

heads

broccoli

break into florets

2

cloves

garlic

minced

Ghee or cooking fat of choice

2

pieces

ginger

finely chopped
Beef Marinade
2

tbsp

coconut aminos

1/2

tsp

sea salt

1

tbsp

sesame oil

1/4

tsp

black pepper

1

tsp

arrowroot or sweet potato powder

1/4

tsp

baking soda
Sauce
3

tbsp

coconut aminos

2

tsp

sesame oil

1/4

tsp

black pepper
Instructions
Slice beef into about ¼inch thin. Marinate thin sliced beef with ingredients under "beef marinade".Mix well. Place broccoli florets in a microwave safe container. Add 1-2 tbspwater.

Place broccoli florets in a saucepan with water. Bring water to a boil and cover pan loosely with a lid. Cook until broccoli is tender but still crunchy. Set aside.

Heat a wok over medium heat w/ 1 ½ tbsp ghee. When hot, lower the heat to medium, add garlic and ginger. Season w/ a small pinch of salt & stir-fry until fragrant (about 10 secs). 

Turn up the heat to medium-high, add marinated beef. Spread beef evenly over the bottom of the sauté pan and cook until the edge of the beef is slightly darkened and crispy. Do the same thing for flip slide - about ¾ way cooked through with slightly charred and crispy surface.

Add "Sauce Combo". Stir-fry about 1 min. Add broccoli. Stir-fry another 30 secs. Toss everything to combine.

Serve over cauliflower rice and enjoy!