AIP Flatbread/Tortilla Recipe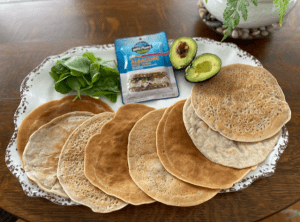 AIP Flatbread/Tortilla Recipe
A quick and easy at home tortilla/flatbread recipe! Swap flour options for a more savory or sweeter option.
Ingredients
2-13.5oz

cans

coconut milk

1.5

cups

cassava flour

can use tigernut flour (sweeter) or buckwheat flour (savory)

1.5

cups

tapioca flour

or arrowroot powder

2

pinches

sea salt
Instructions
Prehead a nonstick pan over medium heat

Mix all of the ingredients into a bowl. If using tigernut flour, really make sure all clumps are are broken apart. Make sure the batter is somewhat runny, you don't want it really thick. Add water or more milk if necessary.

Pour enough batter into the pan to cover the bottom of the pan + about 1/8-1/4 inch thick

Cook for 3-4 minutes per side, adjusting the time up above 4 minutes if the batter doesn't look completely dry when you flip it. Black or brown spots are totally fine, but adjust the time and temp as needed so they don't burn!

Cooking time will decrease as you continue to cook the breads and the pan is hot.